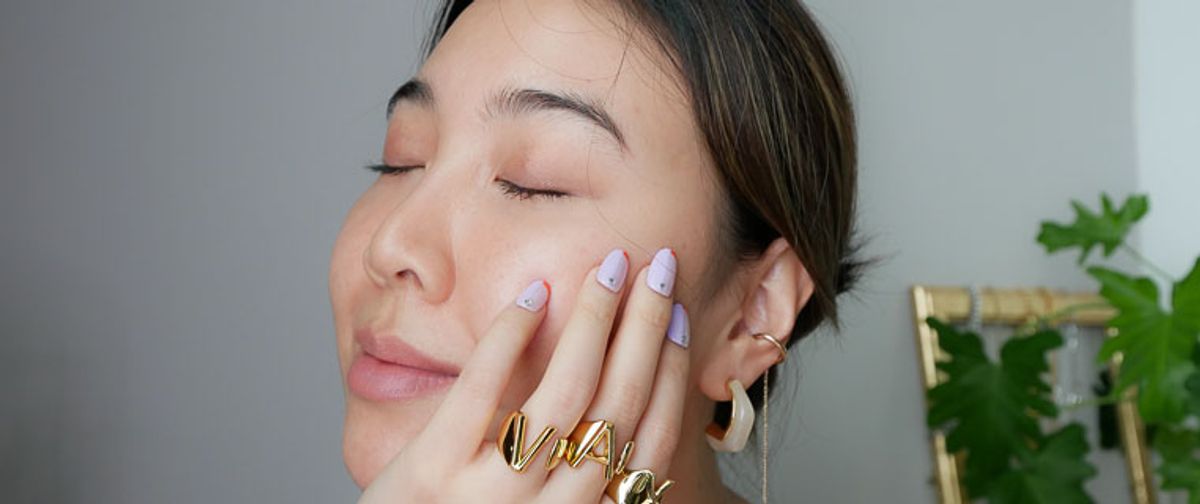 It's ok if you're not interested in eating healthy or committing to 15 minutes daily workouts. Whether you just started your lockdown journey or you're already an expert (I'm sure the anak rakyat of Malaysia are), I've come across a few rituals that have not only made me feel (or look) better but they also helped with self-discipline (cause you know, being consistent isn't the easiest thing to do).
1. Nail Strengthening
What better time to do this when you're stuck at home. My nails were naked for the longest time in its entire life and the tips chip easily - obviously due to over application of gel nails without extra nail care. I reached out to my nail artist in Penang and asked if they had any nail strengthening products and they introduced me to Cuccio Forté Nail Strengther and I am so grateful for it. My nails are long and strong just only after 5 applications with one week apart. Can't wait to beautify my nails again when this stay at home orders drop.
2. Eyelash Growth [Get 15% off "CLUBINANA15"]
Yup... I thought I never needed it but aging is real, ladies! One downside about common eyelash serums is that they tend to darken the eyelids over time (friends' experiences) and I was trying to avoid that when searching for a suitable serum. I ended up with Silly George Lash Growth Serum - waited over a month to receive it but what do you expect, it's free shipping all the way from the US. Tested it for one week (still on going) and yes my eyelashes look slightly longer and thicker. It did cause some mild discolouration but it wasn't too bad. Just reduced the application to once a day and the discolouration faded. Let's see how long they can grow! Teehee...
3. Teeth Aligners [Get RM350 off]
I've always wanted to realign my teeth. They shifted over the years since I removed my permanent retainers and considered aging issues (again), I didn't want them to worsen. Did some research and picked Zenyum for its affordability (only RM5599), shorter duration, convenience and performance. The whole process from online consultation to putting on the first set of aligners took more than a month but I have to say it was fairly straightforward. All communications were done via WhatsApp with their super friendly rep and I only visited their designated local dentist twice. First time for scanning, second time to onboard first pair of aligners. I am currently on my 3rd set out of 8. This whole experience is called Teledentistry, and I liked it!
FYI, payment is broken down into few payments so its not too hefty for consumers.
1st month RM1,499 (Down payment). 2nd - 6th month RM 730/month depending on your case. Click my referral link to get discount for Zenyum.
4. Skin Brightening
Outdoor activities caused my skin looking overly tanned and dull. No brightening products will work (obviously) if the activities continue. So during the lockdown, my dermatologist in Penang prescribed me NanoMD that helped me to achieve the glow inside out to the entire body. After two boxes I'm a shade lighter. Price is RM499/box (30 tablets)
So ya...
These are how I have been practicing self-care during this pandemic. Not implying the products I'm using are the best - they are just what I am currently using and are effective to me. What about you? Feel free to share your favourite products and tips with us on our Instagram or Facebook page!
If you like this blogpost, share it on your social media via the buttons at the bottom of the page
Disclaimer:
This is a personal blog. Any views or opinions represented in this blog are personal and belong solely to the blog owner and do not represent those of people, institutions or organisations that the owner may or may not be associated with in professional or personal capacity, unless explicitly stated. Any views or opinions are not intended to malign any religion, ethnic group, club, organisation, company, or individual.
All content provided on this blog is for informational purposes only. The owner of this blog makes no representations as to the accuracy or completeness of any information on this site or found by following any link on this site. The owner will not be liable for any errors or omissions in this information nor for the availability of this information. The owner will not be liable for any losees, injuries, or damages from the display or use of this information.